Regulatory plan for the commercial & tourist part of the Vrnjacka banja - spa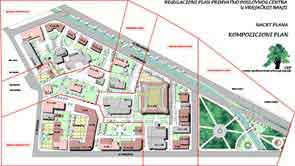 The spa is one of the oldest and the biggest in Serbia. It is a very interesting place to live so as attractive tourist location for recreation and rehabilitation.
High residential buildings were built near the typical spa objects, all in very small block in the center of the spa. That resulted with functional, architectural and ambient confusion and less public space.
The goals of the plan were to compromise those two functions, solve traffic and parking problems and maintenance natural and cultural heritage in danger of uncontrolled use.