In teams:
Regional plans: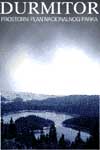 National park Durmitor, Montenegro, Yugoslavia, 1995
One of the 5 national parks in Montenegro, listed by UNESCO as a part of the World Heritage.
Untouched nature, extreme climate, natural values and beautiful landscape around the
mountain river Tara, lakes, vegetation and fauna, traditional architecture, etc.
Plan gave valorization of the space, zoning (protected areas and contact zones),
rules for nature maintenance and protection, historic and architectural heritage,
development, urban & architectural design in contact zones, ski centers and tourist villages.
Regional Plan for Kotor municipality, Montenegro, Yugoslavia, 1993
Plan treated three macro zones in municipality of KOTOR:
The high mountain zone
The Kotor Bay, under UNESCO protection
Grbalj Valley, exposed towards the open sea.
Development on commercial bases brings danger of uncontrolled growth and pollution. Planers tried to make balance between projected economical and ecological benefits.

Evaluating space capacity limits and potentials, specially cultural heritage, plan was the base for further detail planning as: Regional plan of the Municipality,

City of Kotor Master plan , Urban plan of the old town Kotor, urban plans for other settlements in Kotor Bay, Urban design of the old town Perast.

Montenegro Coastal Zone Spatial Plan, 2003

Long term Coastal Zone management plan for the Adriatic Sea coast and the nearest coastal, mainly tourist area. Important natural, historic and cultural heritage, together with tourist development goals had to be evaluated and incorporated. Plan was adopted by Republic Government after a long public participation process and is still in process of partial, detail planning.